본문컨텐츠

>
Introduce
>
Introduction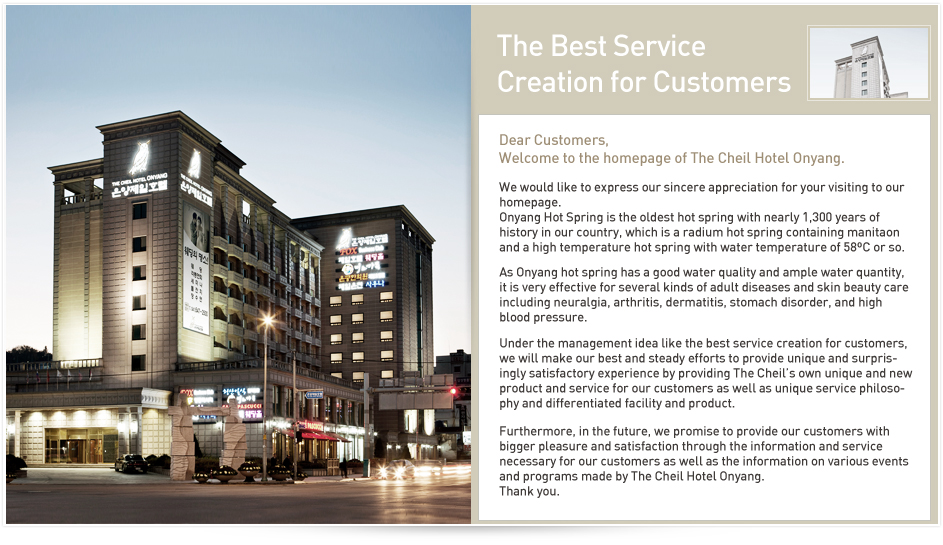 The Best Service Creation for Customers
Dear Customers, Welcome to the homepage of The Cheil Hotel Onyang.
We would like to express our sincere appreciation for your visiting to our homepage. Onyang Hot Spring is the oldest hot spring with nearly 1,300 years of history in our country, which is a radium hot spring containing manitaon and a high temperature hot spring with water temperature of 58ºC or so. As Onyang hot spring has a good water quality and ample water quantity, it is very effective for several kinds of adult diseases and skin beauty care including neuralgia, arthritis, dermatitis, stomach disorder, and high blood pressure. Under the management idea like the best service creation for customers, we will make our best and steady efforts to provide unique and surprisingly satisfactory experience by providing The Cheil's own unique and new product and service for our customers as well as unique service philosophy and differentiated facility and product. Furthermore, in the future, we promise to provide our customers with bigger pleasure and satisfaction through the information and service necessary for our customers as well as the information on various events and programs made by The Cheil Hotel Onyang. Thank you.